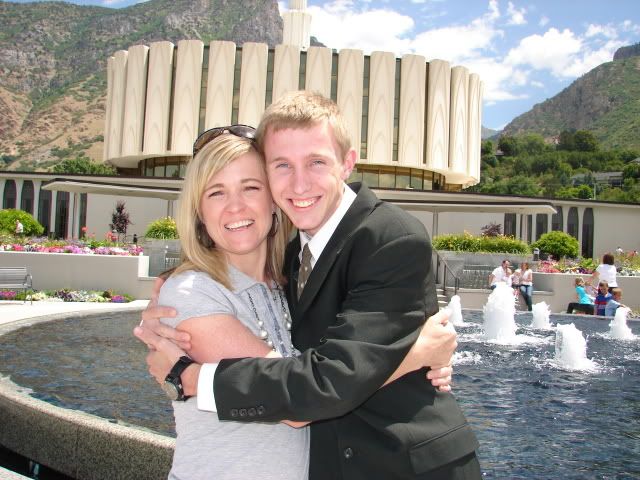 "You need to blog." Mr. Blissful encouraged last night.

"Nah, I don't feel like it." I answered.

"I'll watch TV while you write. Come on."

"Eh. don't think so."

"Isn't it Self-Portrait Tuesday or something like that."

"I don't do Self-Portrait Tuesday anymore. Besides it's Wednesday, the day I do Writer's Workshop."

"See. You need to do Writer's Workshop."

"I can't I'm too tired."

"Sure you can."

"Zzzzz..." with my daytime clothes still on no less. Told ya I was tired.

So I missed Writer's Workshop this week. I mean I guess I could still do it but eh, I don't feel like thinking that much right now.

So instead I will tell my friend Rachel that I like her idea of posting about the many adventures of Mr. Landon on his mission. And as soon as I get the writing bug again I will do just that.

I've thought about posting Mr. Landon's address so all y'all could write him happy little messages, but then I remembered that I have no idea who reads this here blog and I don't want anyone to write my baby nasty mean spirited messages. Not that I think anyone would really do that but you can't be too careful when you're talking about your baby. Am I right? And as Landon said himself of the people he meets, "They either bless us or curse us." So I know there are those out there who like to curse people if they happen to disagree with them and again, I don't want anyone to curse my baby through the mail.

So I thought, "How 'bout facebook?" I could post his address on facebook. But I'm friends with people on facebook that I haven't spoken to in over 20 years and I wouldn't want one of them to write to my baby and say, "Your mommy is a twit" (do you love the movie Matilda as much as I do?) So I guess facebook is out too.

And I can't post my email address for all y'all to email me for his address because my email address has my last name in it and I try to keep my last name from this here blog. So in short, I guess all y'all can't write my baby happy little messages. Dang it all.

But I will tell you that he is doing very well and having some miraculous, heart warming experiences. And even though I miss him SO MUCH, I wouldn't trade this time for anything. Having a missionary son is FABULOUS.
If I do say so myself.
And I do.