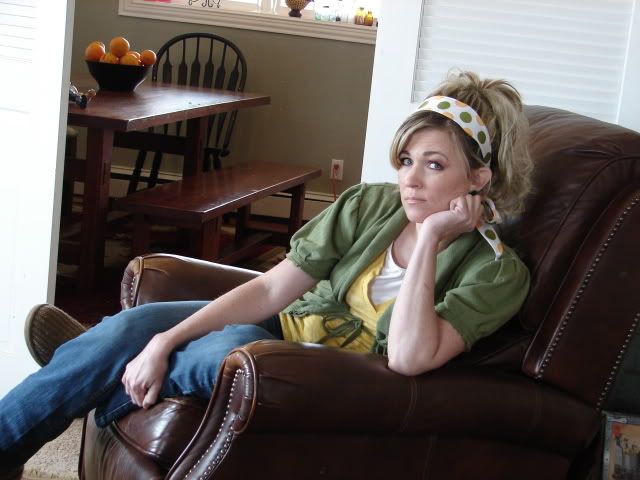 WRITER'S WORKSHOP PROMPT:
LIST 10 THINGS BLOGGING HAS TAUGHT YOU...

1) If you take yourself or others too seriously, you probably shouldn't blog.
But having said that...

2) The lyrics from the Anna Nalick song, Breathe…

And I feel like I'm naked in front of the crowd
Cause these words are my diary, screaming out loud
And I know that you'll use them, however you want to.

…are so true in blogland. I feel like I'm running around nakey far too often.

3) Blogs really do make great journals. Sometimes I read through my archives and think, "I'm so glad I recorded that moment." And if I ever get my blog printed into book form I know it will become a cherished family heirloom.

4) I'm a lame friend because I tend to be a drive-by blogger, taking a peek from the car window without getting out to say hello. Comments are nice. Comments cause warm fuzzies. I NEED TO COMMENT MORE.

5) There is always more to learn, and bloggers are the best, most generous teachers.

6) Creativity is a divine characteristic that resides in each and every one of us.

7) It is a small world after all and blogging has helped me reconnect with family and friends and has introduced me to many fabulous new ones. Love it.

8) Feelings of inadequacy and an overall doubt in my true value are intensified by blogging and are something I must fight everyday. Hate that.

9) The human spirit can be awe inspiring and reading about the strength of others helps me to keep fighting everyday. Love people.

10) "You can learn to walk tall by looking up to those that are 'taller' than you are." Is a statement that I find to be very true in the blogsphere.

And bonus #11 (as much as I hate to admit it) I really do love blogging and will probably (no matter how hard I try) never be able to give it up.

So here's to many more years together my blogging friends--I LUV YA.
Thanks for stopping by.

Now stop by Mama Kat's for more writer's workshop fun (or better yet, join in. You know you want to).