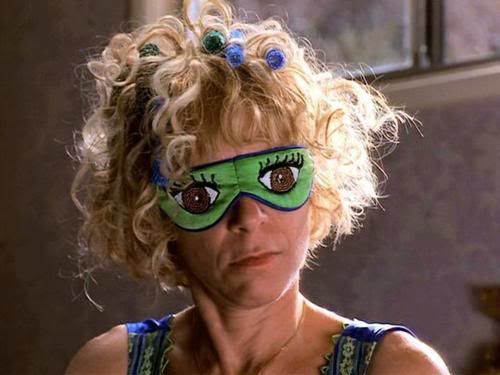 This is me.

Only it's not really me. It's really Rhea Pearlman from "Matilda", my all time favorite movie btw.

I only say it's me because this is how I look during sleeping hours now.

It all started when my husband bought a new space heater for our bedroom (we sleep in an icebox) that shines like the sun at noon day. Rick says it's a, "soft glow" but I think he's a little bit crazy and the "soft glow" was keeping me up every night, making me a lot a bit crazy. It was bad people, really bad, and on the verge of threatening our domestic bliss.

Until...

I remembered that one of my children had gifted me a shnazzy dollar store sleeping mask last year for Christmas (mine is embroidered with closed eyes), and now all is well and blissfully blissful once again.

p.s. our Matilda DVD broke some time ago, making me very sad. But I ordered a new one on Amazon (only 6 bucks) and it should be coming today. JOY.

Am I a nerd for liking that movie so much? Or do you love it too?

Come on, the Trunchbull is GENIUS.