So I decided to participate in some memes this week. What's a meme you ask? Well I'll tell you (now that I learned myself. Apparently there's a world of blogging lingo out there that one must learn) A meme is when a blogger has a good idea for a post, shares it, people write about it on their own blog and everyone gets together to read each other's take on the theme (btw, I ripped off that explanation from Paige at Life is a Phoenix. Thanks Paige).




Today I will join in with the Un Mom for Random Tuesday Thoughts (yes I know the date on my post says Monday. That's because I happen to be writing this on Monday, but you'll most likely be reading it on Tuesday so it's all good).

Anyway, random Tuesday thoughts are just that--random thoughts. So lets play along shall we.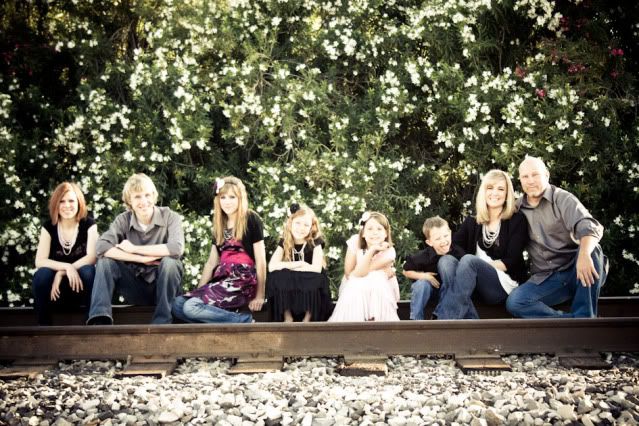 Because my oldest chicken is preparing to fly the nest, we decided to have family pictures taken. The above is a sample of said pictures. Love it. Only, for reasons I don't want to get into, we can't blow this family picture up into a large and beautiful wall hanging. So on Friday we dressed up in our picture taking clothes (again) and traveled for a photo session (again). I'm hoping the new pictures turn out but it was so windy that day that I'm a little nervous about it.

Also the oldest chicken's hair is chopped off short in the new pictures and Waylon (the youngest chicken) couldn't move his head so I guess we'll just have to keep our fingers crossed for a positive outcome.

Friday morning, just hours before the photo shoot, Waylon decided to jump on the trampoline while holding our dog Jack on a leash. All was well until Jack saw a rabbit, sailed off of the trampoline in hopes of catching it and took Waylon with him. Fabulous. Waylon said he flew up higher than the swing set before slamming into the ground with his face, which is why he couldn't move his head for the pictures. It was bad timing for him to engage in such a little boy stunt, but I am grateful that he wasn't hurt any worse.

I must be growing up because my visit to the Valley of the Sun didn't excite me quite as much this time. And (brace yourselves) I didn't have any desire to go to yard sales while I was there (I ended up going anyway when Waylon and my nephew woke up early and needed to get out of the house so the others could sleep, but I only bought a couple of needed items). I'm just so sick of stuff. SICK OF IT. I'm done with stuff and want to throw all of my existing stuff away. Yes I do.

I hate driving on cruise control. It makes me feel out of control. My husband said, "Set the cruise control."

I said, "OK." Then, "Yuck, I don't like this." Then, "Crap, why is the car making that racing noise when I'm not even touching the gas?"

My husband said, "It's climbing a hill."

I said, "I don't like cruise control." And turned it off.

My husband said, "I'm not tired anymore. Let me drive." My husband likes to drive. Me, not so much (obviously), which is another reason we are living in happily ever afterness.

My house is full of extra chickens tonight because it's summer and that's how we roll in the summer. We invite extra chickens to come spend the night. But tonight we invited five extra chickens and it's been a little crazy in the coop. But only a little crazy and nothing I can't handle because I'm a super tough chic like that (tough as in nothing bothers me not as in children fear me. No children fear me, but apparently they respect me because all is quiet now and I think they might actually be asleep). L-O-V-E summertime.