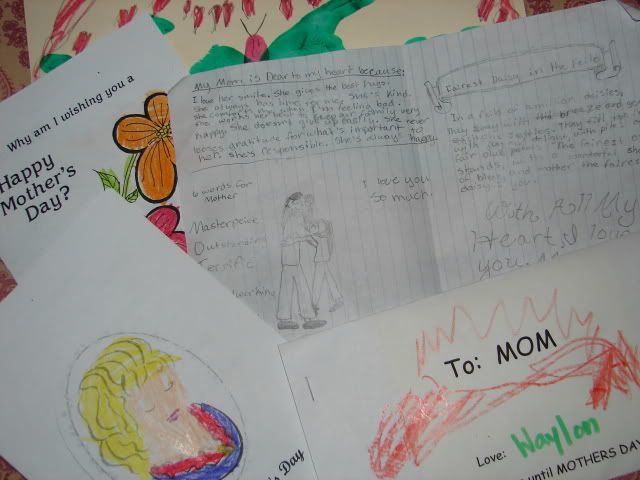 "What do you want for Mother's Day?" It's a question I've been asked a lot this past week. To which I always gave the same answer,
Nothing
Nothing
Nothing.
Because seriously I don't need anything. But when Rick insisted that he must buy me something while we grocery shopped together Saturday night I finally gave in and told him he could buy me a magazine. And so he did. "Cottage Style" magazine to be exact and I really do love it.
But what I love even more than that--my favorite Mother's Day gift every year-- are the cute little handmade cards given to me by my kiddos. Love.

Here's some highlights from this years special messages:

Waylon says that he feels happy when I take him to the park
That my hands are special for tying his shoes
That I'm funny when I make cards for his birthday
And that he loves me because of the food I make for him

Jamie says that I'm special because I'm talented
That I'm funniest when I call her Charlie Brown
That I always say "Cake-a-poo"
That I'm best at writing
That I'm smart because I know all about falling asleep
That she likes it when we're going somewhere together
And that I'm special because she loves me

And Easton Says:
My mom is dear to my heart because I love her smile. She gives the best hugs. She always has time for me. She's kind. She comforts me when I'm feeling bad. She works her best to keep our family very happy. She doesn't give up easily. She never looses gratitude for what's important to her. She's responsible. She's always happy.

And she also wrote me this poem

In a field of a million daisies,
They sway with the breeze and gently
Each one settles.
They fill the field with joy and delight,
With piles of fair blue petals.
The fairest one stands,
With a wonderful shade of blue,
And Mother the fairest daisy is you.

So you see it's true. I really don't need anything.
I've already got it all.