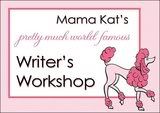 WRITER'S WORKSHOP PROMPT:
Memories of Mom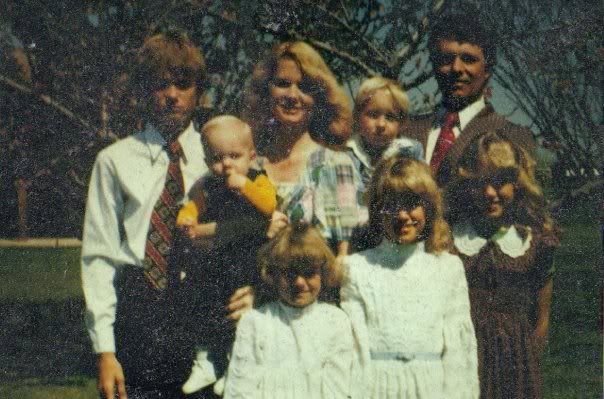 Of course I have many, many memories of my mom (still making more too thankfully) but for some reason the first thought that came to my mind when I read this prompt was...
Dresses.

My mom was a master seamstress (I say was because she rarely sews anymore). She made all of our clothes growing up. All. of. them. And she did an amazing job at it I must say. You should see how stylish we were in our old home movies. We were superfly baby. SUPER-FLY.

I especially loved Easter because that meant new (often matching) dresses hand made by Mom for us to wear to church. Fabulous.

My mom sewed like this until we began to get older and needed (NEEDED) the mall in our lives.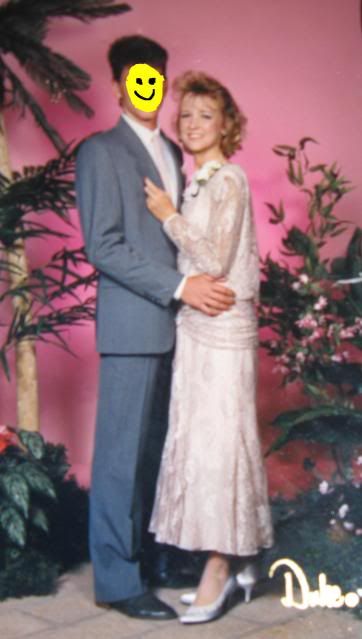 And it was at the mall in oh so posh Scottsdale that another fond dress memory took place. It was here that my mom and I went to look for a dress for my senior prom. We found the dress pictured above (this is a picture of a picture that my mom emailed me today. Seems her scanner is broken too) the details don't show in the picture (btw, is that the ugliest background ever or what?) but this dress was sparkly, chic, and gorgeous and both my mom and I fell in love with it the minute I put it on.

I remember it was over our budget but my mom wanted to buy it for me anyway. This was something that rarely happened and it made me feel special that she would do that for me (warm fuzzy time).


And on a side note:
I was not a froofy prom dress girl. See exhibit B, the above picture of my junior prom. Notice no froof. I liked sleek simplicity. No froofy, poofy for me. No siree bob (not that there's anything wrong with froofy, poofy if that's what your heart so desires. It's just not for me. That's all)
Which brings us to another dress moment.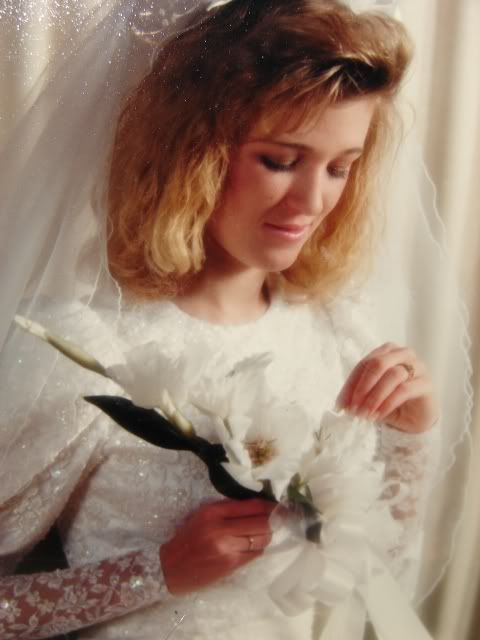 They say that every girl dreams of her wedding day. Well not me apparently because I was pretty nonchalant about the whole wedding planning business. "Whatever" seemed to be my motto (but I'll save that story for another post). So I'm very lucky that my mom used her keen eye to find a large, boxie wedding gown (much too big for me) on the sales rack of a bridal boutique, then immediately see the potential in its beautiful beaded fabric. We snatched up that dress, took it to a seamstress and had it made into a gorgeous gown just for me (with not too much froof. Small bell, no train...you know).
I've said it before, I love being a girl (you can be girly without liking froof) and I owe much of this to the example of my mother who, from my earliest memories, made it fun to get dressed up and be pretty.
P.S. Why eighties hair, why? Why'd you have to go and ruin all of my pictures? Why?