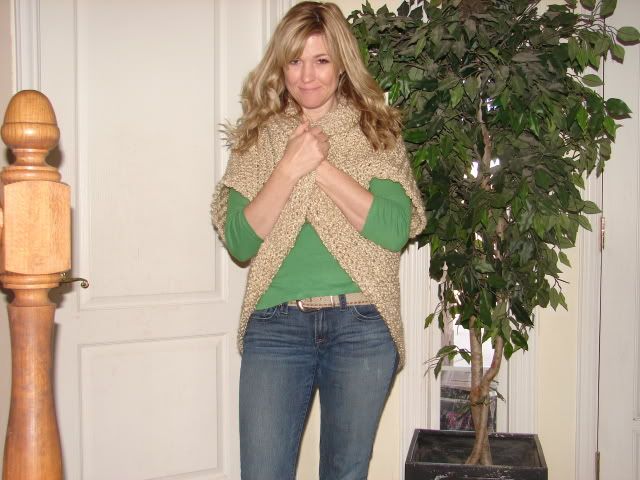 Please love that I am not wearing any makeup in this picture.
Please also love the dust in that tree behind me.
No this isn't the first time I've noticed my dusty tree. I see the dust every time I walk past it. I just haven't done anything about it. That's all.
The problem is it's an artificial tree. And trees should be real. Real trees don't gather dust (or do they) and they bring beauty, life and oxygen to a room. I love real trees.
But they don't love me.
Which is fairly reasonable seeing as how I kill them. And if someone killed me I wouldn't love them either. So I have no real, living, breathing, beautiful plants in my house. Just fake dusty ones. Sad.

But you know what? I didn't write this post to talk about my dust problem (my chandeliers look like they belong in the haunted mansion--I'm just saying). I wrote this post to show you the awesome wrap thingy (don't know what it's called) that my mother-in-law crocheted for me.
She came over yesterday and said, "Look I made this for you." And I put it on. And promptly warmed up. Who knew a crocheted wrap thingy could be so warm?

I'm pretty much in love. And I'm pretty sure I'll be wearing this everyday. So if you pop by to see me, no matter the day or time, this is what you'll find. Me, my wrap thingy, no makeup and dust. Awesome.