Well there certainly aren't a shortage of memes out in the blogsphere to get involved in. They're EVERYWHERE. So many in fact that it's hard to decide on just one.

But today I'm going to join with My Little Life for Five Question Friday because I don't feel like thinking too hard this morning and I'm hoping that answering questions will be easy. Plus her button is really cute. Just look at it. Cuteness.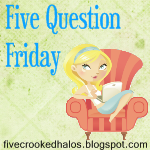 So let's get started with today's Five Questions...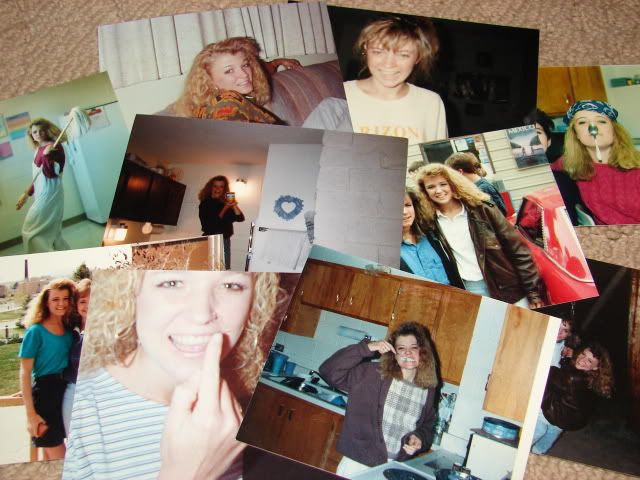 1. If you could go back to college would you change your major? Or, if you were to go to college right now...what major would you choose?

Because my major seemed to be "How to be a goofball and have as much fun as possible" then I would say YES I would definitely change my major. I've kicked myself many times through the years for not taking college more seriously (or seriously at all) back when I had the chance. If only my young self had known that that was her moment to grab opportunity and run with it. If only she had known how hard it would be to get it back later. And that's where I find myself now...

I've arrived at "later" and now it's time to get serious and figure out just what I want to be when I grow up. My baby is starting school this year and I think it would be great if I could too, but since I've already gotten that degree in being a goofball and having fun, I have no idea what to major in this time around. Hmm...

2. What do you love most about your home?
Oh my home. A subject that sends me running straight to the psychiatrist's office (if only I had a psychiatrist). I have a love hate relationship with my house. It's beautiful, it's spacious, it's surrounded by wonderful people.
So what's the problem?
You ask. Unless you're a psychiatrist you really don't want to know it's really far too deep and utterly ridiculous to get into. But though I've struggled with this for some time I think it's beginning to get better. Yes I think it is.
Despite all of this however, I can tell you that my favorite thing about my home is the ginormous family room at the far corner of the upper story. Notice I said "far corner" which is why it's my favorite thing especially when we have gatherings with many children or sleepovers with many children. We don't hear a thing. Fabulous.

3. What types of books do you like to read (if you like to read at all)?

While most young people can be found reading the latest fantasy or romance novel, when I was a young girl it wasn't unusual to find me with books with titles such as "Children's Hospital" or "True Stories from the ER" Of course I did read some romance, I am a girl after all, but my favorite stories have always been those of the real life human experience. And while my favorite book, the one I've read the very most is "The Hiding Place" about an amazing woman who ended up in a concentration camp during WWII, I'd have to say that I have spent much of my time reading stories of a medical nature.

In college I did a report on a book about the surgeons of the Civil War and I've read my copy of a medical encyclopedia so many times that the cover has fallen completely off.

Hmm... I think I may have found my major.

4. What is the grossest thing you've ever eaten?

While on a recent juice fast, I found a recipe for a homemade vegetable juice concoction that was supposed to be SO GOOD for strengthening my body. I think I spent a small fortune getting all of the vegetables for that juice only to turn around and DUMP IT DOWN THE DRAIN. It had to be the nastiest thing I have ever tasted, my salivary glands are spurting in protest right now just thinking about it. Trust me, I would never have poured that much money down the sink if there was any way around it but it was THAT BAD. Bluck.
5. If you HAD to be a character on a TV show, whom would you be?

This one is hard for me. I don't watch a lot of fictional television (refer back to question 3) and I have no desire to be any of the characters I watch on reality TV. They're all off their nut. I'm trying to remember if there was a TV character I really wanted to be back when I was a young single girl but I'm drawing a blank (my favorite, favorite show as a teen was "North and South" maybe I'd want to be Madeline (I think that was her name) on that show so I could smooch on that hunky, hunky Orie Maine or however you spell it (Patrick Swayze) or maybe I'd be Ashton Maine for a day because she was so delightfully evil).

Then again if I was a young single girl right now maybe it would be fun to be the Bachelorette for a season. But then I have a very hard time being mean to people and just might end up with an entourage of 20 guys following me around for the rest of my life because I'd just have to give them all a rose. Wait, I lie...

It's been so long since I've been single that I've forgotten my breakup history. Sever and run. That was my pattern. Sever a limb (my limb, his limb whatever) if you have to and high tail it out of there. Never looking back, never becoming "just friends" just run (I was never good with breakups. My older kids have heard the stories and they think I'm evil. Hmm... maybe I should be Ashton Maine after all).