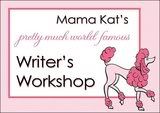 WRITER'S WORKSHOP PROMPT:
Who is a bird-brain? Think about all the birds you've seen–from songbirds to hunters. Compare one or more people you know to different types of birds in a piece of writing.

*******************
I don't even have a photo to go with this post because I am the bird-brain. My sister asked me why I haven't been blogging lately and I guess I'd have to say that it's because I've been feeling like a bird-brain and wanted to put a stop to it.

I want more in my life. I want to be the best me possible. Lukewarm ain't cuttin' it. I want better. So I've taken this past week to step away from as many life distractions as I could and I've tried to really dive into those things of greater value. I even replaced smutty reality television for uplifting programming while I sorted socks (sorting socks has been an important part of my self discovery this week as well. I want peace. And for me that means sorted socks) and I have to say that I love uplifting programming. There are some awesome people in this world.

So in this bird-brain comparison I guess I'd have to say that I am the ugly duckling, fighting desperately to become the beautiful swan that I was born to be.

Less than that is not an option.
Not anymore.