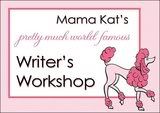 WRITER'S WORKSHOP PROMPT:
"I'm mad at myself. I'm embarrassed. I can't believe after all these years, I'm still talking about my weight." Poor Ope. What are you mad at yourself about?





"I'm sorry, have we met?" I asked as I walked past my large living room mirror and caught a glimpse of an unknown entity following closely behind me. So close in fact that it seemed to be growing out of my backside.

Oh wait...

It was my backside, which had somehow taken on a much more, shall we say, voluptuous form than I was accustomed to.

I blame it on the "freshman fifteen". No I'm not a freshman in college, but since moving to what feels to me to be a vacation town (the mountains are where you vacation when you're from the city) I think I've been eating like one.

I've gained 10 to 12 pounds (I learned this at my recent trip to the Dr.) and I'm determined to put a stop to it right now...well... that is AFTER the banana bread. Yes after the banana bread I will definitely put. a. stop. to. it. I mean what am I supposed to do when the kids don't finish the banana bread (/bars/cake or whatever you want to call it) the night before and I'm left home alone with it...all day...just the two of us... seriously, what?

EAT IT OKAY. That's what I'm supposed to do because I simply can't resist the stuff. I just can't. And now I'm mad at myself. So, so mad.

No--I'm not mad at myself for eating the banana bread. Of course I'm gonna eat it. This stuff pretty much rocks the "good food that sticks to your bum and thighs" universe (especially with the accompanying cream cheese frosting).

No--I'm mad at myself for letting the bananas get over ripe in the first place.
They're so much less fattening in their original form.

P.S. Today I received a request to make this banana bread/bars/cake (whatever you want to call it) for a couple's up coming wedding reception. Yes it's that good.
...worth having a big bum good?
Um...Obviously.