This is Miss Easton.
*
Miss Easton likes to go on rides that drop her two hundred feet, accelerate at ridiculous speeds, and flip her upside down and all around.
Miss Easton likes to sit in the backseat of rides because, "They go the fastest and the highest." And she says, "Big butterflies in my stomach is a good feeling."
Miss Easton is very brave.


This is me.
I do not like thrill rides.
For me being on a thrill ride is much like being in labor...
just breathe through the pain and pray for it to end.
I am not as brave as Miss Easton.
...but I wish I could be.

How brave are you?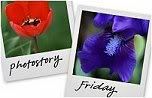 Hosted by Cecily and MamaGeek