I found a cute new (well new to me) blog with a fun new (again to me) mr linky party.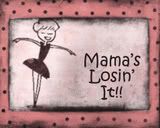 It's over at "Mama's Losin' It" and it's a Writer's Workshop linky party. To join you simply choose one of her writing prompts, post, link, leave comments for others... happy day.
The prompt I chose is: "What makes you Giddy"

Well it so happens that I just finished composing a letter to some dear ones who make me quite giddy indeed so read on and you will see the giddiness of ME.
*
Dear valley of the sun,

I love you. Thank you for welcoming me into your warm, well more like frying hot, arms every time I come for a visit. Each time I see you I feel alive. Your various buildings, signs and people (oh the people watching, now that's entertainment) are as beautiful to me as the mountainous landscape I now call home.

And thank you for having stores, real stores, many stores. And to you stores, thank you for having sales, making it possible for me to partake of your bounty. Especially you dear Ross, thank you for having cute jeans for my kids for only three dollars. THREE DOLLARS! I love you.


And to said kids, thank you for being so good on our trip you are the best kids in the world and I love you, but keeping you clothed costs a small fortune, of which we no longer have. So please be gentle with your clothing this school year and try not to grow too much, there's no telling if we'll be able to buy you anything next year.

To Marlee and Paige, my right hand girls, thank you for all of your help especially at the swimming pool. I couldn't have done it without you. Thank you for not being selfish or spoiled and for appreciating the value of a dollar, but don't feel bad about the money we spent on you. We saved it up for this purpose, and you girls have earned it. A million times over, you have EARNED every bit of it.

And thank you for the money you spent on me Miss Marlee. You really didn't have to buy me a birthday present even though it is my "Big Birthday" this year.
And even though you knew that I really, really wanted this you didn't have to buy it for me and you certainly didn't have to give it to me early so that I could dive into it right away, but I'm glad you did so thank you.

Dear life, you're so good and you make me happy. Thank you for all that you offer. I love you.

Jeanette
What's in the bag? You ask. Tune in later and I'll tell you.