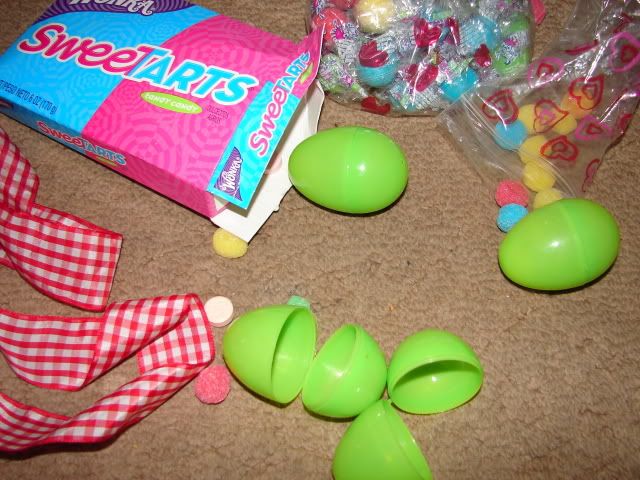 Often times the Lord blesses me in spite of myself, a fact that I am very grateful for.

Take this morning for instance...

Now it is no secret that I am not an organized person by nature. So it came as little surprise that with only 10 minutes left before Waylon had to catch the bus for school today, I suddenly remembered that he needed five filled plastic Easter eggs, and a packed lunch to boot, for a school picnic. Granted, ten minutes would have been plenty of time to accomplish these tasks IF I HAD ANY PLASTIC EASTER EGGS IN THE HOUSE. Which I didn't. Or so I thought. But just as I started to break the news to my poor unfortunate son that his mother is a twit (I'm sorry I just love the movie "Matilda") and therefore he would have to miss the picnic that he had so looked forward to, a picture came to my mind in perfect clarity as to where some eggs had been stashed some years ago (when you're unorganized you rarely recall where you stash things. It's sad.)

So I quickly retrieved the eggs, filled them with candy that I had forgotten to put into one of Landon's care packages (blessing #2) and frantically ran to the kitchen to throw a lunch together. Only I didn't have to throw a lunch together because as Easton was leaving for school this morning she remembered a pizza party promised by her teacher and left her lunch behind (#3).

Sometimes I feel unworthy of such tender mercies, being that I am a twit after all :) , but I am so thankful for a loving Savior who-- while encouraging me to continue to work hard at becoming all that I can be-- still sends me precious reminders that He loves me just the way I am.

Amazing.