While reading blogs tonight, I noticed that my cousin Shellie participates in what is called "Photostory Friday" and I thought, "Oooo a game and Oooo, it's only 11:30 pm here which means it's still Friday and Oooo I think I want to play this here Friday game."
So 1, 2, 3
Ready or not here I come...


.
.
Man I'm going to sleep better tonight knowing that he's lying here beside me.
Please don't ask me why my four year old is in my bed, separating me from my hubs and punishing my ribcage with his ever wandering knee.
This is not a post about bad parenting. It's a post about SOCKMAN okay, and if you're not careful I just might sick him on you.
So unless you are stronger than the HULK, you might want to keep your judgements to yourself.
But advice?
Now that is very welcome.
Seriously, how the heck do I get this kid out of my bed?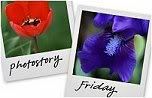 Hosted by Cecily and MamaGeek